This project was created in memory of Mike Ziler – brother of local business and community leader, Joe Ziler.  Mike took his life, leaving behind a daughter, family and friends. It is often believed by victims of suicide that the people closest to them will be "better off" without them.  In fact, the crushing and emotional impact on those left behind lingers and in many cases, never goes away.  The cycle must be broken and any remaining stigmas must be dispelled so that those who struggle with mental illness and thoughts of suicide know there is help available.
The goal of the M.I.K.E Endowment is to bring awareness to mental illness and provide funding to organizations and programs in our local community that support education and help for mental health.
Mount Dora Community Trust Partnership
We finalized our partnership with the Mount Dora Community Trust so we could create the MIKE Endowment and create an ongoing funding source to provide mental health support and help prevent suicides. This video, produced by Red Apples Media, gives you a little more insight into how we're going to change the way people think and react to mental health… and it begins with KINDNESS.
I invite you to support our efforts by donating through this link Mount Dora Community Trust Donation Page  and choosing M.I.K.E. – Mental Illness & Kindness Endowment.
Support Is In The Bag - 100+ MIKE Backpacks
We delivered more than 100 backpacks to LifeStream Behavioral Center's The Open Door in Eustis in partnership with One Fire Church and Isaac Deas Consulting. There Is Help. There Is Hope. And there is a community of support for our homeless and those most at risk for mental health conditions.
A Parade Appearance With Purpose
After a trying pandemic year, we know people are a bit more stressed than usual.  Anxiety, depression and isolation have also increased. That's why we joined the 2021 Eustis Georgefest Parade to share these stress balls with the reminder that there is HOPE and HELP available to those willing and ready to reach out.
Getting On Their Backs About Suicide Awareness
800 backpacks with custom MIKE tags will be distributed to Lake County Schools middle and high school students with contact information about the Speak Out Hotline and the National Suicide Prevention Hotline as part of our continued effort to raise awareness of the available resources for our area students. Thank you to the Education Foundation of Lake County for facilitating this project.
We're On The Road, Spreading The Word
Things continue to come together for the MIKE Endowment. We repurposed one of our Kevco Builders company cars with some extremely impactful messaging.
Supporting Mental Health Training In Schools
In our ongoing commitment to investing into suicide awareness and prevention, the MIKE Endowment presented a check to Carman Cullen-Batt of the Education Foundation of Lake County (FL) for $2000. This money will be used as a grant so that four Lake County Schools teachers/staff can further their mental health training and better serve the students in our community. This marks the first donation made by our organization in partnership with the Mount Dora Community Trust. For more information or to donate, please visit www.TheMIKEFoundation.org
Kevco president, Joe Ziler is known to say, "If you have the opportunity to make a difference, you have an obligation to make a difference." This mindset is what inspired him and Kevco builders to underwrite the wrapping of 2 Lake County Sheriff's Office vehicles and 6 Lake County Schools service vans. The funds for the production and installation of the wraps by Hunter Signs came through Joe's fundraising efforts with LifeStream Behavioral Center. We hope if YOU "see something, you'll say something" as we strive to raise awareness of the community resources available to students in need of mental and emotional support. Our thanks to Red Apples Media for helping put all these pieces together. This has been a textbook example of the potential of multiple private and public stakeholders coming together to create one voice, one mission.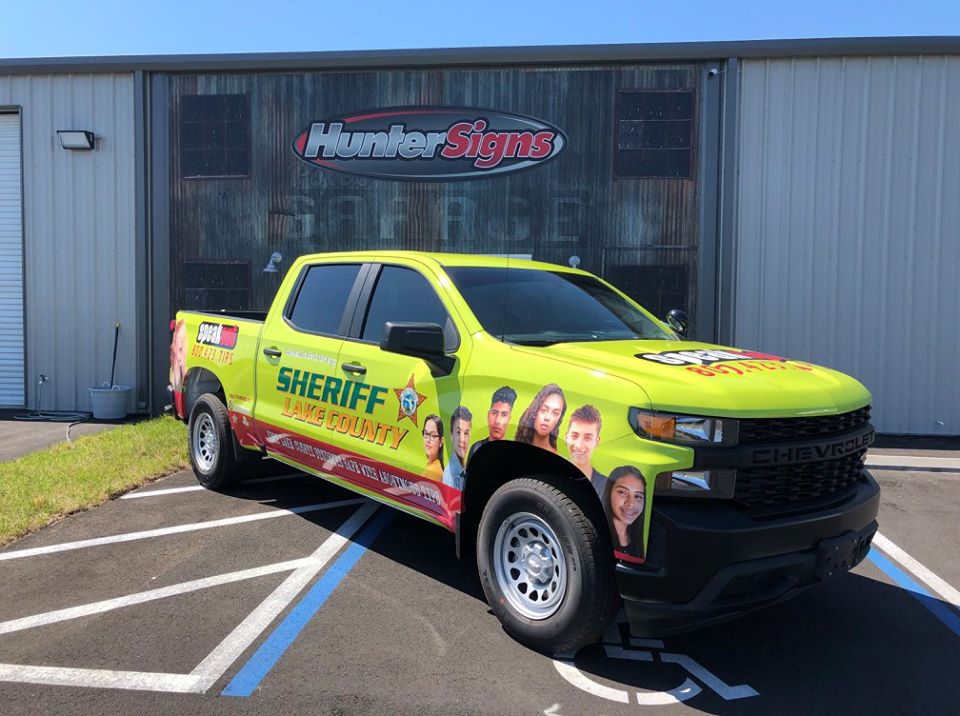 The 8th wrapped vehicle – a Lake County Sheriff's Office pick-up — co-branded with the "Speak Out" message, in partnership with Lake County Schools, is now on the road! Keep an eye out for the 6 school district resource vans and 2 Sheriff's vehicles, wrapped as a community service by Kevco Builders and designed by Red Apples Media.